Despite being the recognised capital of the country, Edinburgh does not contain the most prominent and well known teams. That honour falls to Glasgow with Rangers and Celtic. Edinburgh is a city full of heritage and the arts with its Castle, buildings and Fringe festival. It's also becoming well known for its tech based industries, like the Web Design Edinburgh based company Design Hero. However, there are also two prominent teams that are based in Edinburgh. These are Hearts of Midlothian, or just Hearts or even the Jambos (from the rhyming slang Jam Tarts, Queen of Hearts). The other is Hibernian or just Hibs for short. Both have had a chequered career compared to their larger city rivals to the west.
Hearts are based on the Walter Scott book "The Heart of Midlothian" and the famous mosaic placed in the city. You'll find this on the world renowned "Royal Mile" that leads from Holyrood, at one end, and the Castle at the other. The team has had some success, winning the league title four times. The last of these was in 1960 before the see saw years of dominance by the Old firm.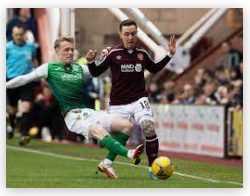 Hibernian are very much like Hearts, in that they have also won the league four times. Their last league title was in 1952. Their supporters are known as Cabbages, from the rhyming slang Cabbage and Ribs, Hibs. They come from Leith, a less affluent area of Edinburgh than their Royal Mile neighbours. It leads to a pretty intense rivalry.