If you are planning to take on some garden projects this autumn to get the garden looking good for the spring when you can spend time enjoying the outdoors once again, then laying a patio may be one of the top jobs on your list.
A patio is a great place to entertain during the summer months and gives you the space to place seating and tables and even a barbeque if you want to enjoy sitting out in the garden.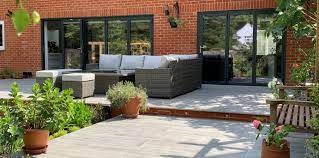 This is a job that you can do yourself if you want to, it just takes a bit of planning beforehand.
Firstly, you need to decide on where your patio is going to go and mark out the area. Once you know the place you are putting it, you need to prepare the ground. Dig down to around 1.5cm over the whole area of the patio and make sure that the soil is even – you don't want a lumpy patio! Once you have done this, you can then put the subbase layer in, taking care to make sure that it is a depth or 1cm consistently.
You can then start to prepare your concrete. You can get this form a supplier like this concrete Cheltenham based company www.monstermixconcrete.co.uk/concrete-cheltenham
You need to have enough concrete to make sure that the layer is 4cm thick, so bear this in mind when you order it.
Think about finishing touches and decorative effects to finish it off – whether you want to lay some slabs, or you want to add in some decorative tiles, plan your design out and get your materials ready in advance.