Understanding and exploiting the specificity of each market to succeed in being part of it …
In 2015, the e-commerce turnover of companies generated on foreign markets represented on average 27% of the total online sales of companies that are equipped for sale abroad.
A crucial element that allows international sales to develop is to have a website translated into different languages, even more than the possibility of having offices or branches in foreign territory. For merchants who have a multilingual site, in fact, the percentage of turnover generated across the border is on average 33%, while it is 14% for those who have offices abroad and 10% for those who work with only the site in home language.
This article is dedicated to best practices to be applied to succeed in sales abroad. Apart from the specificity linked to the international aspect, the core business of merchants does not change much: provide elements of reliability to the customer, offer efficient customer support, calculate the impact of shipping on the conversion rate, draw up detailed product descriptions … and be competitive on prices, of course!
Strategies, packaging, shipping and communication, our experts accompany you to conquer new markets.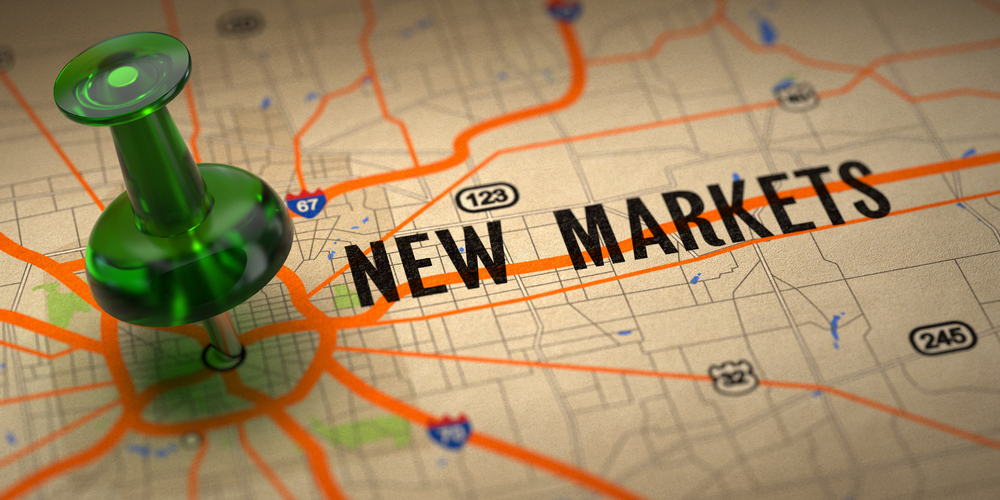 #01- Prepare well for the conquest of foreign markets
Undoubtedly, foreign markets represent a huge market to explore for the development of your online business. However, this is not a reason to rush! Thanks to the following tips, you can plan your success in foreign markets!
Choose the right market
First of all, the concept of overseas is somewhat abstract. To begin with, you need to choose the geographical area in which to develop. To contain risks, it is essential to adopt a two-step strategy:
First step: Translate your site
At first, you entrust the translation or translate your site into multiple languages. If you realize you are visiting users from foreign markets, there must surely be a business opportunity to seize. At the beginning you can decide not to authorize international sales: you can use multiple language version as a showcase to estimate the interest that your online store raises outside the borders. For a qualitative translation of the product sheets, do not be content to reuse supplier information: write a unique description, in line with the rest of your catalog.
Second step: Identify the expanding markets
The multiple language version of your site will allow you to identify the origin of the visits. For example: if a good percentage comes from Spain, this country is a track to follow for a more specific development.
The advantage of a two-stroke strategy is to limit the initial investment, favoring a rapid positioning of your site in foreign markets …
Study the "functioning" of the target country
Opening up to an international online trade puts you in front of the challenges and opportunities of a new system. A preliminary analysis of this new environment is essential for immediate results! International opening.
Examine competition and opportunities
Whether in foreign markets or in your home country, competition is one of the first things to consider when starting an online business. In foreign markets, the parameters to be evaluated are numerous: market size for your products, prices, purchasing power of consumers … Think also of the proximity of the home country, especially if the stocks are centralized in a single warehouse!
To be interested in the legal and fiscal context
We must not only take care of business! Undermining overseas also means respecting new regulations both in terms of customer service and taxation. Within the European Union, legislation increasingly tends to standardize itself so as to simplify the administrative burden on businesses, facilitate the fight against fraud and of course promote Internet commerce.
Take care of the logistics
You have imagined it, the logistic aspect is certainly the biggest challenge for a merchant who aspires to penetrate an international market. Despite this element often blocks those wishing to expand foreign markets.
Here are some tricks to better manage the logistical aspect and take advantage of foreign trade …
Choose the right products
Especially at the beginning, focus on the easiest products to export. Weight is an extremely important factor: less weight, lower costs and greater ability to compete! Some items in your catalog will not be competitive with those that the consumer could buy in their country.
Choose the "right" geographical area
At first, limit your exports to a geographical area close to your country. In this way you can more easily control the costs related to your presence in foreign markets: centralized stocks in home country and shipping limited to other countries.
#02- Organize your online store
You have reflected on your international development strategy. It's time to make room for concrete actions to immediately register your first orders!
Obviously, translate
Without a doubt, you will have to translate the content of your website. Be careful, do not rely blindly on Google Translation. Without keeping up with idiomatic expressions, a true translation must contemplate the commercial culture of the target country!
To be even more effective, we recommend avoiding complex metaphors or old ways of saying! These elements could mislead the translator even though he is very qualified. Remember that an e-commerce site is first and foremost a business, focus on effectiveness!
Another trick: you can make a quick translation at a reduced cost: go through automatic translation. However, consider this option as temporary because it is not the most productive long-term solution!
It is possible, but less frequent, to succeed in foreign markets without translating your site.
More than translating, locating and adapting
Exporting abroad also means dealing with a different culture. The keyword in this case will be adaptation. A study showed that only 40% of Britons, 23% of French and 21% of Germans make purchases on foreign sites. If you can make your window "local", you will have much more opportunities to sell!
A simple but effective strategy to give a buyer the impression of navigating on a site designed in his mother tongue is to have a local domain extension – if not a specific name.
Still some gimmick to remember. Try to show photos of the local cities to present your articles: this will allow the user to immerse themselves in a family context! And do not forget the cycle of the seasons! They change according to the hemisphere and the impact on consumers depends on the latitude!
Adapt the offer and rates
International trade also implies changes in terms of supply and payment methods.
Payment habits are distinguished by country. In the Netherlands, 60% of payments are made by credit card. In the Czech Republic, 50% of transactions take place in cash at the time of delivery! To be successful on the foreign market, adapting to payment methods is not enough. You need a good ability to manage payments with different currencies and you will need to consult your bank to get the deal for this type of transaction. Finally, remember to show the elements of reliability (anti-fraud device, your bank logo, etc.). When buying from foreign markets, users always ask the same questions. Reassuring your customers coincides with the increase in your conversion rate!
Be ready for assistance and any returns
You already know the importance of customer service quality and there is no reason why this changes for overseas sales. Reassuring a visitor is perhaps even more important when working with foreign clients. If you want to retain your users, you need to guarantee online assistance in their language.
The mimeo you can do is to translate the FAQs in an exemplary way. You must clearly express your return conditions. This is essential information for an Internet user who purchases outside their own borders. In a nutshell, do everything to make your customer feel comfortable, giving the impression that you are buying on a website designed in your language.
The importance of customer reviews to complete reliability
We will never stop saying it: customer reviews are essential for potential buyers. According to a study by Zocalo Group, 92% of consumers before making a purchase follow the recommendations and recommendations of family, friends and relatives. Whether positive or negative (within certain limits!), the opinions of other customers are an exhortation to purchase because they reassure Internet users.
#03- Getting to know each other
Have you developed a development strategy and organized your online store to the smallest details? You still have one thing to do before taking flight: promoting your site.
Use MarketPlace and price comparators
To make yourself known in foreign markets, what's better than using MarketPlace and local price comparators? Amazon and eBay remain safe values. On Amazon, if you create a foreign account, you can publish your catalog on all foreign versions of the site (Italian, French, Spanish, German …).
Work on SEO before developing abroad
An overseas presence forces you to work on your SEO again. It will be necessary to correctly translate the keywords, the tags, the titles … it will be necessary to apply the SEO best practices once again!
One last trick: keyword associations can vary from one country to another. Some can achieve excellent results in one country and not be effective in another. In this case, do not hesitate to use Google Keyword tools that will allow you to identify links between keywords and adopt new strategies.
Email marketing and SMS at the top
When you have acquired your first customers, your goal will be to retain them. In foreign markets, communication is less obvious, so your best business card is the loyalty of existing customers. What's better than newsletters and text messages? The reading rate of an SMS is close to 90%, it would be a mistake to deprive it!
In addition to retention, email marketing is an excellent word of mouth for the marketing program. This strategy is very interesting when you start to conquer a new country. It allows you to lean on a network of local customers to get promoted!
Having a social presence to reassure customers even more
For the conquest of new markets, beyond our borders, it is essential to go for social networks. Managing pages in a foreign language requires a precise organization of your work, but this proves that you are present and that users can trust you!
Now it's your turn … and let's play!